---
Welcome to the Air & Waste Management Association's New England Section home page.




Introduction to the A&WMA

The Air & Waste Management Association (A&WMA) is an international nonprofit, nonpartisan professional organization that provides training, information, and networking opportunities to environmental professionals in 65 countries. The Association's goals are to strengthen the environmental profession, expand scientific and technological responses to environmental concerns, and assist professionals in critical environmental decision-making to benefit society.

For more information about this organization, link to the A&WMA website. You can also visit their Linkedin site
---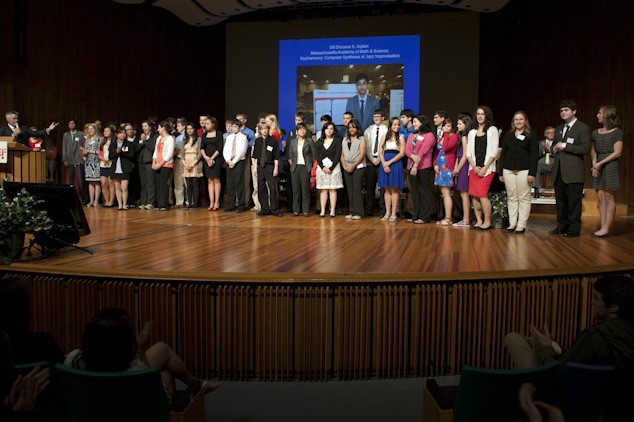 A&WMA NES Awards Scholarships at the 2016 Mass Science Fair
Air and Waste Management Association- New England Section was pleased to award two $400 scholarships this year at the 2016 Massachusetts State Science and Engineering Fair held at MIT on May 6-7. Ardis Vaughan, Chair of the New England Section presented the second place awards to Lillian Cain from Mass. Academy of Math & Science and Julia Danko from Wachusett Regional HS.
MSSEF has advanced science literacy and inspired new generations of science and engineering leaders for over six decades. MSSEF supports schools and empowers teachers through science fair programs in which student's experience first-hand the professional practices of scientists and engineers. Almost 35,000 students have participated directly in Massachusetts statewide fairs, and hundreds of thousands have been part of the state fair pipeline: regional and school-based science fairs across the Commonwealth.
---
The New England Section of the A&WMA
Membership
All members of A&WMA belong to a regional "Section," and within Sections there may also be "Chapters." Members of A&WMA listing a mailing address in one of the six New England states are automatically members of the A&WMA New England Section. For more information about A&WMA membership, link to the A&WMA website.
The Connecticut Chapter and the Wentworth Institute of Technology Student Chapter are the only Chapters within the New England Section. Members with addresses in the state of Connecticut are automatically members of the A&WMA Connecticut Chapter.
Activities
The A&WMA New England Section holds a full-day Fall Conference each year, as well as other meetings (e.g., breakfast meetings, dinner meetings, and meetings co-sponsored with other organizations). Members always receive a discounted registration fee to these events and are kept informed via our "Current News" web page, mailings and/or e-mail, and our web page. Local meetings enable members to exchange technical and managerial information with colleagues "operating right in their own backyard." For a list of A&WMA events, as well as other environmental conferences, seminars, and meetings of potential interest to A&WMA members, please see the Events Page.
The Fall conference was held on October 10, 2014 click here for the conference proceedings
Career networking is also encouraged, and New England Section members can advertise positions within their companies on the A&WMA-NES web site at no charge. Job Postings on the web will be updated as they are received by the Section. If you have any openings for environmental professionals, please email the information to jblackberg@att.net
The New England Section also engages in various educational outreach activities.
Executive Board
The A&WMA New England Section has its own Executive Board. For a list of Board Members and contact information, please see the Executive Board Page. You may also review the minutes of recent board meetings from that page.
For further questions regarding the Section, please contact Board Member Steve Kmiotek at 508-229-7250 or email any questions to: skmiotek@rohmhaas.com
---
If you are an A&WMA Member of the A&WMA New England Section and are not currently receiving e-mail regarding upcoming events and updates to this web page, please send your e-mail address to John.lefebvre@baesystems.com.
Last Updated February 2016
Copyright © 2012-2017 Air & Waste Management Association
Created by JohnnyB Design